For the past few years, blockchain technology has been hitting the news regularly, being implemented in everything from real estate transactions to the financial sector. Blockchain technology has evolved since making technological roots in cryptocurrency. It's a revolutionary method of digital record keeping. Blockchain is well on its way to be the next big thing in supply chain innovation.
What is blockchain, and how does it work?
In simple terms, blockchain technology is a public, decentralized record of transactions. Blockchain can be implemented in different ways, but at its core, it's a method by which every person involved holds a complete ledger of every transaction completed.
Blockchain makes it possible to easily verify transactions in a transparent way, while also ensuring that these transactions are verified by others. Blockchain technology verifies all of its interactions with peers, so it's a safe and secure method of completing valuable transactions. All of these benefits make blockchain an ideal technology for the future of the supply chain.
How can blockchain revolutionize the supply chain?
In 2019, we will likely see blockchain implementations in a variety of supply chain applications. Blockchain is already coming to high-resource fields, such as mining where precious metals and precious gems need to be systematically tracked and sourced. Over time, it's likely this technology will also be integrated into the supply chain solutions across many other global industries.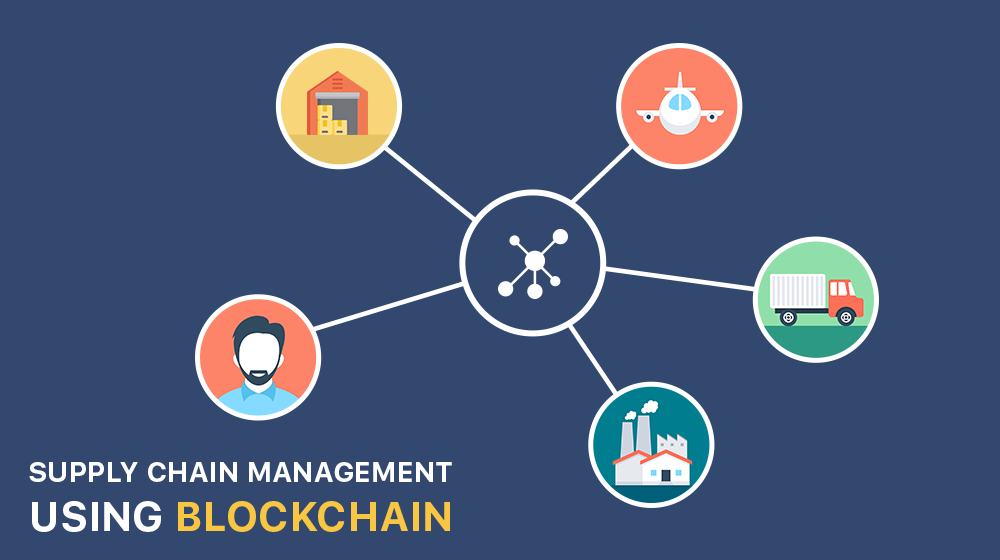 Here are a few ways blockchain can improve upon existing supply chain management:
Building a global supply chain. Supply chains must now work seamlessly around the world. By creating a decentralized database through which all transactions can be tracked, the blockchain makes supply chain management visible and consistent across the globe. Anyone from anywhere at any time can access the decentralized database of transactions.
Improve the visibility of sourcingIn the blockchain, all transactions are visible, which can help with tracking commodities. In the food industry, it can be used to denote where food has been sourced, and by whom. In industries such as the diamond industry, blockchain could be used to register and validate specific gems. Blockchains can be used to ensure that products are ethically sourced, and that they have been acquired from safe, certified sources.
Improved transparencyAnyone can view the transactions on the blockchain at any time. Vendors and suppliers will see transactions simultaneously resolve, making it possible for them to secure valuable transactions. When used for shipping and logistics, the blockchain can make it easy to track large-scale shipments and individual packages.
Better sustainabilityBlockchain technology is scalable, making it possible to run extensive logistics and supply chain networks on a decentralized network of technology. More importantly, blockchain naturally supports an environmentally-friendly, eco-conscious globalization. Today, the consequences of globalization are vast. It's not always possible for consumers or purchasing agents to know where products are coming from and what it takes to transport them. Through the technology provided by blockchain technology, it is now easier for companies and individuals alike to implement ethical procurement practices.
Blockchain technology is already being integrated into a number of different industries. 2019 is likely to see the supply chain and logistics industry swiftly adopt blockchain technology as a means to keep up with growing demand. Blockchain technology makes it possible for suppliers and purchasers to communicate with each other on a global scale in a consolidated, transparent system. Not only does that make it easier to ethically source products, but it also makes the process of tracking more reliable.
Are you wondering how blockchain could improve your operations? Are you researching new supply and logistics technologies? Whether the blockchain may be right for you depends on your business, industry, and existing operations, but there are always ways to improve and enhance your supply chain operations using technology. Find out more by contacting AFFLINK.

About Michael Wilson
Michael Wilson is AFFLINK'S Vice President of Marketing and Communications. He has been with the organization since 2005 and provides strategic leadership for the entire supply chain team. In his free time, Michael enjoys working with the Wounded Warrior Project, fishing, and improving his cooking skills.