Tuscaloosa, AL - September 2017 - AFFLINK's ongoing commitment to the Packaging industry was on full display this week as the organization participated in Pack Expo 2017!
The evening before the show, AFFLINK, a leader in supply chain management for more than 35 years and developer of the ELEVATE Process, invited friends, colleagues, members, and suppliers to jump on AFFLINK's "Packaging Bus" for a personal tour of Las Vegas.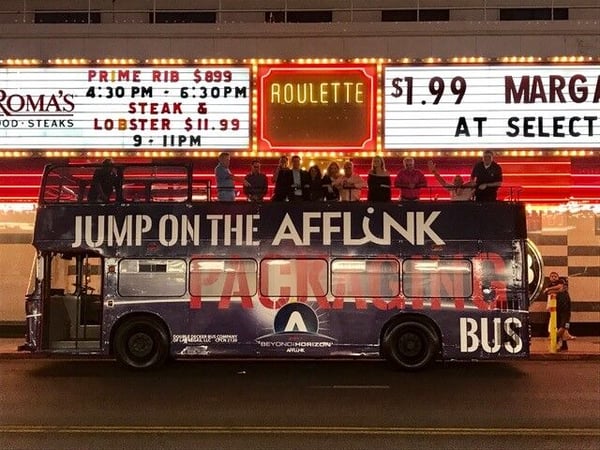 The Pack Expo show is an annual event put on each year by the Association of Packaging and Processing Technologies (PMMI). The organization represents more than 800 North American manufacturers and suppliers in the packaging and processing industry.
This year's show was the largest in the organization's history with nearly 30,000 attendees and more than 2,000 exhibitors participating.
Those on the Packaging Bus were treated to the sights and sounds of the famous Las Vegas Strip as well as a stopover in the city's historic downtown.
The Packaging Bus was even captured by a local news station as it chauffeured the AFFLINK crowd around town.
The evening culminated in a private dinner gathering at Bouchon, a French restaurant located in the Venetian Hotel and is considered one of the city's most famous eateries.
"From the top down, we are committed to growing our brand and reputation in the packaging industry," says Ron Moyer, Vice President of Packaging at AFFLINK. "Our organization has the most progressive members and innovative suppliers in the [packaging] industry. Our goal at the show was to show the industry that AFFLINK is committed to the packaging industry. I believe we accomplished that."
Moyer says he sends a warm thank you to everyone who joined AFFLINK on the Packaging Bus "and we look forward to doing it all over again but with even more events next year in Chicago."