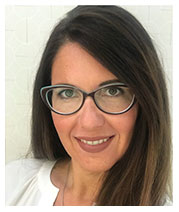 Download
Jenifer Maxwell is the Vice President of Member Brands, the private label business unit of AFFLINK, a division of Performance Food Group, Inc. Jenifer takes ownership of growing the AFFEX and AFFPACK lines through increased brand awareness, operational efficiencies, vendor relationships, and strategic development.

The drive behind her success is thanks to her creative approach to making consumer goods memorable. Jenifer is a hands-on leader who values taking risks and utilizing humor to deliver relevant marketing strategies. Jenifer's team shares her vision of transforming everyday items into valuable commodities end users are proud to purchase. Through continuing collaborative efforts, AFFLINK's Member Brands produced a short series of videos that drew the attention of the organizers of Tissue World.

Her academic accomplishments include earning an MBA and an MS, in Global Management with a focus in Marketing from the University of Maryland University College.

As with any good leader, the members of her professional and personal team support her in and outside the office. These individuals include Jenifer's husband, two children, and extended family. When Jenifer isn't breaking down toilet paper walls, she's training for marathons and sipping her favorite coffee.