Press Room
Meet the leadership team responsible for over 35 years of successful supply chain management at AFFLINK.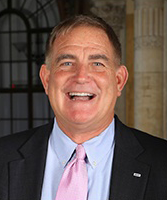 Dennis Riffer,


President And CEO
Dennis Riffer has over 30 years of experience in the field of supply chain management for global corporations, having served as General Manager and Director of Global Accounts. By solving end-user problems with innovative solutions and growing the company's distributor and supplier shares, Dennis has developed AFFLINK into an industry frontrunner while solidifying true relationships between each key link in the chain.
AFFLINK's revenue is more than three times what it was at his inception—a clear indicator of an effective formula for success. Dennis is frequently a guest speaker at The University of Alabama Culverhouse Sales Program and the University Master's Program. Dennis holds a BA in Marketing from Missouri Southern State University. Outside of AFFLINK, Dennis loves spending time with his two granddaughters. He's also an avid golfer and an active Chiefs, Royals, and Alabama fan.